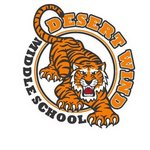 Desert Wind Tigers
Welcome to the 2018-2019 school year.
We are excited about our upcoming Athletic programs
Please review the following information:
A completed athletic packet, including current physical dated on or after March 1 of current school year, must be submitted to the office before the student is able to participate in tryouts and team sports. Packets are available HERE or in our front office.


Student must have medical insurance to try out and participate in any school sport. If insurance is needed, Myers-Stevens & Tookey Co. offers low medical coverage. Forms are available in our front office.

There is a $50 "Pay 2 Play" fee for every student that makes the team.

There is a $250 maximum "Pay 2 Play" fee per family per school site.

The fee is collected prior to the first game of each sport season for students to be eligible to play.

All students are expected to ride the bus to and from athletic events. Alternative transportation may be used on an emergency and infrequent basis. A travel release form must be turned in at least 24 hours before departure. The person picking up the student must show ID. The travel release form can be found HERE or in the forms section.
Athletic

Seasons
Season 1: Baseball, Softball, Cross Country
Season 2: Boys Soccer, Girls Volleyball
Season 3: Cheerleading, Girls Basketball, Football
Season 4: Boys Basketball, Girls Soccer, Wrestling, Cheerleading, and Track
**Sports that are offered may change based on coach availability**
--------------------------------------------------
If you have any questions or concerns, please contact:
Evan Nechamkin - Desert Wind On-site Athletic Coordinator
Jake Neill - District Athletic Director
Christy Trujillo - Athletic Administrative Assistant